n 1958, Friedrich and Ingeborg von Huene, a young couple who had recently arrived in the United States from Germany, began the manufacture of Renaissance and Baroque recorders in the front hall of their modest apartment on Cypress Street in Brookline, Massachusetts. This was the unassuming beginning of an enterprise destined to become a world-renowned source of historical woodwinds.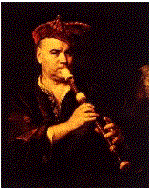 Friedrich von Huene, a flutist, had graduated from Bowdoin College with a major in music in 1956; he then apprenticed with Verne Q. Powell, the famous flute-maker (silver) in Boston. Most interested in early music and musical instruments, he formally opened his own independent shop in 1960. This was an intrepid act for a family with four children under the age of five years ─ and subsequently to be blessed with a fifth child. But aficionados of early music quickly acclaimed the superb von Huene instruments; the small workshop became a busy place.
In 1966, Friedrich von Huene was awarded a Guggenheim Fellowship that permitted extensive travel throughout Europe to study the finest early woodwinds in both museums as well as private collections. In 1968, the well-known German instrument maker, Moeck, requested models for a set of four recorders. The results were soprano, alto, tenor and bass instruments designed by Friedrich von Huene based upon originals by I. H. Rottenburgh. They are manufactured by Moeck and sold worldwide. Royalties from this collegial agreement have flowed back to the workshop for many years. In 1970, the von Huenes acquired the first of several buildings along Boylston Street in Brookline where they are still situated today.
Employing a current management buzzword, the "core competency" of the von Huene Workshop, Inc., is the design and manufacture of superior Renaissance and Baroque recorders and transverse flutes from a variety of exotic woods ─ e.g., selected European boxwood, rosewood, grenadilla, and ebony. While this alone is an awesome responsibility, the business is indeed more complex. Today, there are essentially four businesses: (1) the manufacture of historical woodwinds, basically a worldwide mail-order business, (2) the repair business for instruments of their own manufacture as well as those of others, (3) the consignment business for the sale of exceptional instruments on behalf of others, often estates, and (4) the retail business ─ viz., The Early Music Shop of New England ─ that sells early music, accessories and instruments by all makers of historical woodwinds, strings and keyboards.
The quiet von Huene Workshop is discovered to be in the center of a global network of early music exhibits and festivals. In the past year, the Workshop has participated in exhibits of historical instruments in Berlin, Frankfurt, London, Paris, and Utrecht. The von Huenes founded the popular biennial Boston Early Music Festival in 1981.
With the decreasing value of the US dollar vis-á-vis the currencies of other major nations, the obviously-expensive von Huene instruments are becoming increasingly affordable to musicians outside the United States. Europe is now the destination for many of the Workshop's shipments. This is a traditional family business; Ingeborg has always served as the attentive business manager, and two sons work full-time with the enterprise: Nikolaus in marketing/administration, and Patrick in manufacturing. To prosper, the Workshop has needed the Renaissance leadership of a musician, artist, scholar, engineer, craftsman ─ and business manager.
As one walks through the von Huene Workshop where virtually every employee is also an accomplished musician, there is the sense of having stepped back 400 years in time, and the expectation of meeting Domenico Scarlatti and François Couperin around the next corner. Immersed in this rich history, one suddenly becomes aware of another dimension to the Workshop. The FAX machine is quietly receiving realtime messages from all over the world. There are four computers at work. And email is an essential component of each day's communications.
Perhaps most startlingly, the von Huene Workshop, Inc., has its domain on the Web [http://www.vonhuene.com/]. Thoughtfully designed by Mike Moretti, a serious musician and loyal customer, the von Huene home page offers a complete online catalog, and facilitates the instantaneous placement of orders or inquiries from any place in the world. [For security reasons, payment by email is discouraged, but can be quickly facilitated by FAX, wire transfer, telephone, or postal service.] The Workshop spans five centuries.
The spirit of the von Huene Workshop was best captured when an honorary doctorate of music was bestowed upon Friedrich von Huene by Bowdoin College in 1984 with the following citation: "As a performer and teacher you have helped to preserve a priceless musical heritage. In honoring you, Bowdoin honors its own concern that the best of the past give shape and sound to the present."
von Huene Workshop, Inc.
65 Boylston Street
Brookline, MA 02445
Telephone: (617) 277-8690 — FAX: (617) 277-7217

---
Your comments and suggestions for these pages are most welcome!